---
Highjump Warehouse Edge (formerly AccellosOne WMS) achieves a high level of ROI through order accuracy, on time shipping, minimizing inventory carry costs, and decreasing labor costs.
We are a leading provider of Accellos warehouse management software systems. We use a best of breed approach to warehouse management and will integrate to your existing ERP / Accounting system.
---
Highjump Accellos One Warehouse Demo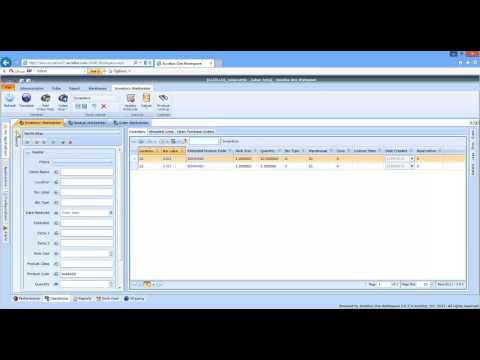 ---
ERP Software Integrations
| | |
| --- | --- |
| ERP Integrations (1) | Information |
| | |
(1) We can integrate with most ERP systems, we do however
have out of the box integrations to the above systems.
Request FREE white paper
"Top ten Must Have Warehouse Management Features."
---
Best of Breed approach:
Let's use a true warehouse management system to manage your inventory and your warehouse
We have out of the box integrations to Microsoft Dynamics ERP including NAV, AX, and GP. Also integrations for Sage products. We also have an integration toolkit for other ERP integrations.
Click here for information for 3PL companies
Warehouse management system benefits
Improve Warehouse Performance
Streamline operations and material handling processes
Meet retail compliance demands
Access real-time status updates
Improve operational efficiency (labor reduction)
Integrate with various material handling equipment including carousels, conveyors and pick to light systems
Integrate multi-carrier shipping to further streamline outbound processes
Optionally receive multiple POs and pick multiple SOs at a time
Optionally, use batch driven, paper based picking documents to collect orders and validate at a packing station
Improve Accuracy and Inventory Visibility
Eliminate redundant data entry and keying errors associated with manual processes
Gain complete visibility into warehouse contents
View real-time inventory, sales order and purchase order status
Maintain an accurate perpetual inventory without interrupting operations using real-time cycle counting
Refine inventory control and management
Drive costs out of every warehouse operation by using wireless devices to validate items as they are picked, received or moved
Extend functionality of ERP into customer price ticketing and carton content information with track and trace numbers
Fully integrated warehouse inventory transfers, stock counts, and adjustments
Bin Location Management
Visibility by bin inventory
Move product from bin to bin with ease
Flexible bin rules for greater control
Specify products and bins by attributes (handle codes, size codes, reach codes, quarantine areas, damaged goods zones)
Create and track license plates (pallet IDs)
Create and track containers
Integrated wireless devices make bin management effortless
Obtain and review carton content and shipment track and trace information
---
---
Serving the Mid Atlantic Region: Ohio, Pennsylvania, New York, New Jersey, Maryland, Delaware and Virginia
Download this Case Study on Ten Thousand Villages by clicking on the image below:
For more information on Warehouse Management Systems